Kingston to Upper Canada Village and Return
4 nights, 5 days
Our Upper River Expedition is tailor-made for those passengers who want to experience the full beauty and history of the Thousand Islands. Your cruise vacation will depart from Kingston, Ontario to cruise and thoroughly explore the picturesque Thousand Islands before continuing east past Brockville. Cruising downriver past Prescott, you will encounter the first lock in the St. Lawrence Seaway system at Iroquois, Ontario. The Seaway Control Dam here stretches from the Canadian to the American side of the St. Lawrence River and this dam regulates the water depth throughout the Seaway to Montreal. Beyond Iroquois, as you journey towards Morrisburg, Ontario you will pass over the "Lost Villages" of the Seaway en route to historic Upper Canada Village.
Highlights of this Cruise: This cruise is an excellent chance to witness opulent summer homes, scenic bays, and intimate island passages. With additional stops at the 1000 Islands Heritage Museum in Gananoque, Fulford Mansion in Brockville, and Fort Wellington in Prescott, this cruise vacation is full of the colonial history of Upper Canada and the Thousand Islands.
June 16, 2022 - June 20, 2022
July 7, 2022 - July 11, 2022
Aug 2, 2022 - Aug 6, 2022
Aug 20, 2022 - Aug 24, 2022
Sept 5, 2022 - Sept 9, 2022
Sept 19, 2022 - Sept 23, 2022
Oct 12, 2022 - Oct 16, 2022
May 14, 2023 - May 18, 2023
May 30, 2023 - June 3, 2023
June 15, 2023 - June 19, 2023
July 18, 2023 - July 22, 2023
Aug 3, 2023 - Aug 7, 2023
Aug 26, 2023 - Aug 30, 2023
Sept 21, 2023 - Sept 25, 2023
Oct 7, 2023 - Oct 11, 2023
Oct 18, 2023 - Oct 22, 2023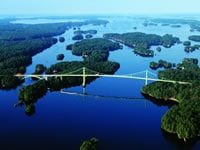 This cruise will take you to witness the island paradise and natural and man-made charm of the archipelago.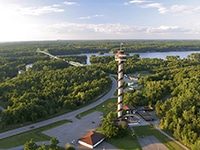 The 1000 Islands Tower is a unique attraction and will show you the best of what the area has to offer.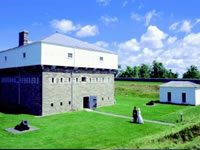 The first Fort Wellington was built during the war of 1812 high above the St. Lawrence River at Prescott.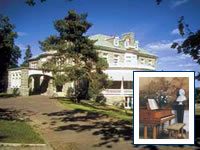 Fulford was able to purchase 14 acres of waterfront property in Brockville, Ontario.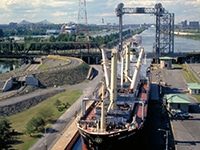 All locks on the Seaway are similar in size. In width they are 80 feet; the depth over the sill is 30 feet; and the length - that is breast gate to fender - is 766 feet.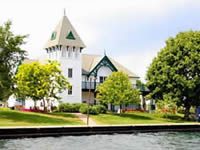 Thousand Islands Heritage Center
On Gananoque's waterfront there's a grand Victorian building designed in the tradition of the late 19th century two storey "grand cottage" with its expansive verandahs and a "widow's walk" lookout tower.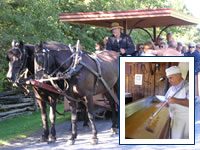 Upper Canada Village ? parts of it formed with buildings moved from flooded lands ? is a living museum community that recreates the life, work, and development of the early settlements along the upper St. Lawrence River valley.