Kingston to Upper Canada Village and Return
4 nights, 5 days starting at $1874 CAD per person

On the Upper River Expedition we will embark from Kingston, Ontario to cruise and thoroughly explore the picturesque Thousand Islands before continuing east past Brockville. Cruising downriver past Prescott, we will encounter the first lock in the St. Lawrence Seaway system at Iroquois, Ontario. The Seaway Control Dam here stretches from the Canadian to the American side of the St. Lawrence River and this dam regulates the water depth throughout the Seaway to Montreal. Beyond Iroquois, as we journey towards Morrisburg, Ontario we will pass over the "sunken villages" of the Seaway enroute to historic Upper Canada Village. With additional stops at the 1000 Islands Heritage Museum in Gananoque, and Fort Wellington in Prescott, this cruise vacation is full of the history of Upper Canada and the Thousand Islands.
May 31, 2022 - June 4, 2022
June 16, 2022 - June 20, 2022
July 7, 2022 - July 11, 2022
Aug 2, 2022 - Aug 6, 2022
Aug 20, 2022 - Aug 24, 2022
Sept 5, 2022 - Sept 9, 2022
Sept 19, 2022 - Sept 23, 2022
Oct 12, 2022 - Oct 16, 2022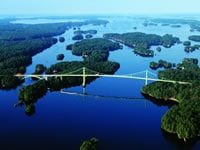 This cruise will take you to witness the island paradise and natural and man-made charm of the archipelago.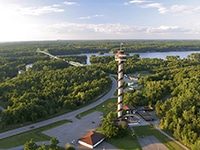 The 1000 Islands Tower is a unique attraction and will show you the best of what the area has to offer.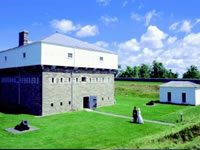 The first Fort Wellington was built during the war of 1812 high above the St. Lawrence River at Prescott.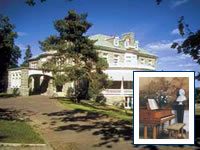 Fulford was able to purchase 14 acres of waterfront property in Brockville, Ontario.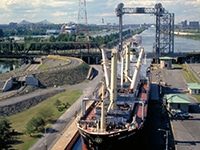 All locks on the Seaway are similar in size. In width they are 80 feet; the depth over the sill is 30 feet; and the length - that is breast gate to fender - is 766 feet.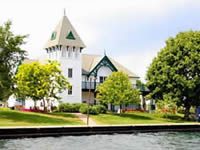 Thousand Islands Heritage Center
On Gananoque's waterfront there's a grand Victorian building designed in the tradition of the late 19th century two storey "grand cottage" with its expansive verandahs and a "widow's walk" lookout tower.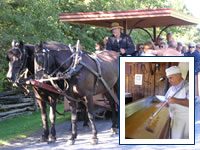 Upper Canada Village ? parts of it formed with buildings moved from flooded lands ? is a living museum community that recreates the life, work, and development of the early settlements along the upper St. Lawrence River valley.
Passenger boarding commences in Kingston
Captain's Punch & Cheese Reception
Captain's Welcome Remarks - Safety Instructions & Crew introductions
Kingston Harbour tour bound for 1000 Islands anchorage
Empress Class Roast Prime Rib of Beef Buffet
Cruise Director's "Fun with Trivia" and get acquainted party
Late night stroll on the upper deck under a million stars and among a thousand islands
Soft piano music on the player piano
Weigh anchor to wander the 1000 Islands, Wanderer's Channel and Admiralty Group of Islands bound for Gananoque, Ont
Debark at Gananoque for a tour & visit to the Arthur Child Heritage Museum of the 1000 Islands
Depart Gananoque to cruise the U.S.A. side of the river
Learn about Boldt Castle on Heart Island
View and learn about Singer Castle on Dark Island
Comprehensive Safety Presentation & Crew Drill
Arrive Brockville - transfer by bus for a guided tour of Fulford Mansion
Bus departs from Fulford Mansion to return to the ship
Relax and stroll the waterfront - see Canada's 1st Railway Tunnel
Fun loving entertainment
Depart Brockville bound for Prescott, Ont
Debark at Prescott for a tour of Fort Wellington (National Historic Site)
Bus returns from Fort Wellington
Depart Prescott bound for Crysler Park Marina, Upper Canada Village
Cruise along the old Galop Canal - opened in 1846
Pass through the Iroquois Lock at the Seaway control dam
Arrive Crysler Park Marina
Relax or stroll the marina and grounds
Miniature train departs marina to meet horse-drawn wagon to tour Upper Canada Village. After your guided tour free time to wander on your own
Transportation returns from the village (1.5 miles)
Depart marina bound for Ivy Lea, Ontario in the heart of the 1000 Islands
Ship board activities
View and learn about the Statue of St. Lawrence
Arrive Ivy Lea
Relax or stroll this quaint little hamlet
Enjoy some big band sounds for your listening and dancing pleasure
Debark ship for transfer to the 400 feet 1000 Island Tower on Hill Island
Depart Ivy Lea and sail through the Canadian channel enroute to Kingston
Arrive Kingston for Closing Ceremonies (Grand Saloon)
Debarkation and farewells - Brock St. Dock, Kingston
Early morning coffee - Grand Saloon (or observation deck)
Breakfast (latest full breakfast serving - 0900)
Lunch - early sitting (at the call of the bell)
Lunch - main sitting (at the call of the bell)
Afternoon tea - Grand Saloon (or observation decks)
Dinner - early sitting (at the call of the bell)
Dinner - main sitting (at the call of the bell)
Shuffle Board, Parlor Games, Kite Flying
All times are approximate. This itinerary is subject to change without notice or incurring obligation. Currents, weather and seaway traffic may be modifying factors.