Quebec City to Kingston
6 nights, 7 days starting at $2811 CAD

"What river is this?" asked Jacques Cartier of his Indigenous guide as he looked on the St. Lawrence River.
"A river without end," the Indigenous guide replied. And so it seems, as this cruise explores the staggering variety of one of the world's great rivers.
Along its course you'll experience the numerous attractions and extraordinary scenery of Upper Canada and the Thousand Islands. Quebec City, Canada's showpiece, provides the venue for the beginning or end of your river cruise vacation.
Here you can experience the world charm and grace of "Old" Europe. You will encounter Quebec City's unparalleled joie de vivre (love of life) found nowhere else in North America. Enjoy Old Quebec (the only walled city in North America) with its massive ramparts still bolstering the Plains of Abraham; and behold the imperial green-roofed towers of the legendary Chateau Frontenac. En route you will discover the magic of the Thousand Islands, the deep historical roots of "Loyalist Brockville" and the unique living community of Upper Canada Village. Between Montreal and Quebec City there are the "grassy Battures", rich mudflat home to myriad species of birds. You will pass the "Segnieury" areas, the prominent village cathedrals of Quebec, and witness the awesome cliffs stretching up to the historic Plains of Abraham.
Lachine, a borough of Montreal
May 25, 2022 - May 31, 2022
June 10, 2022 - June 16, 2022
July 17, 2022 - July 23, 2022
Aug 14, 2022 - Aug 20, 2022
Aug 30, 2022 - Sept 5, 2022
Sept 29, 2022 - Oct 5, 2022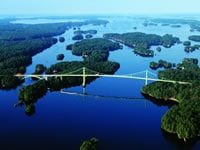 This cruise will take you to witness the island paradise and natural and man-made charm of the archipelago.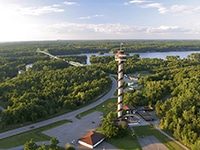 The 1000 Islands Tower is a unique attraction and will show you the best of what the area has to offer.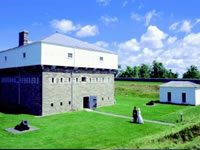 The first Fort Wellington was built during the war of 1812 high above the St. Lawrence River at Prescott.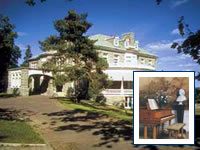 Fulford was able to purchase 14 acres of waterfront property in Brockville, Ontario.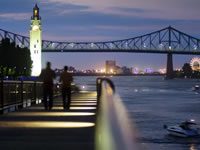 A complete City tour, taking in many points of interest, including Notre Dame Basilica, a masterpiece of Gothic Revival architecture.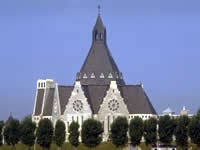 Featuring a lake about the size of a football field with an island in the middle always dressed with flowers.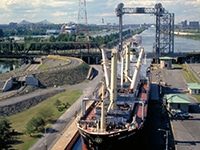 All locks on the Seaway are similar in size. In width they are 80 feet; the depth over the sill is 30 feet; and the length - that is breast gate to fender - is 766 feet.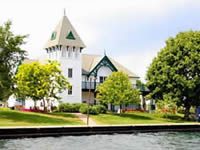 Thousand Islands Heritage Center
On Gananoque's waterfront there's a grand Victorian building designed in the tradition of the late 19th century two storey "grand cottage" with its expansive verandahs and a "widow's walk" lookout tower.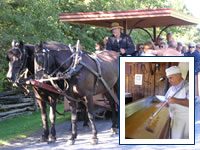 Upper Canada Village ? parts of it formed with buildings moved from flooded lands ? is a living museum community that recreates the life, work, and development of the early settlements along the upper St. Lawrence River valley.
Passenger boarding commences at Quebec City
Captain's Punch & Cheese Reception
Captain's Welcome Remarks - Safety Instructions & Crew introductions.
Depart the harbour to cruise the City's waterfront
Empress Class Roast Prime Rib of Beef Buffet
Harbour cruise, Montmorency Falls and the beauty of Quebec City at night, complimentary liqueurs
Return to port - piano music on the player piano & lounge services
Depart Quebec City bound for Trois Riviéres
Shipboard activities
Comprehensive Safety Presentation & Crew Drill
Debark at Trois Riviéres for a brief bus tour en route to the Shrine at Cap de la Madeleine
Return to Trois Riviéres and the ship
Self-guided walking tour material of the Old City for those interested - time permitting
Cruise Director's "Fun with Trivia" and get acquainted party
Soft piano music on the player piano
Depart Trois Riviéres bound for Montreal
Shipboard activities
Debark at Port of Montreal for a 2 hour guided bus tour
Depart Montreal to enter the Seaway Lock system and overnight at Lachine
Depart Lachine bound for Upper Canada Village
Pass through Beauharnois Locks (2) Lower and Upper
Shipboard activities
Pass through Eisenhower & Snell Locks (U.S.A.) into Lake St. Lawrence
Ship arrives Upper Canada Village, Crysler Park Marina
Relax and stroll the marina and grounds
Fun-loving entertainment
Miniature train departs to meet horse-drawn wagons to tour Upper Canada Village
Transportation returns from the Village (1.5 miles)
Depart marina bound for Prescott - pass through lock at Seaway Control Dam Iroquois
Debark at Prescott for a tour of Fort Wellington (National Historic Site)
Bus returns from Fort Wellington
Depart Prescott bound for Brockville
Arrive Brockville, "The City of the 1000 Islands" for overnight
Relax and stroll along the park walkways
Fun-loving entertainment
Transfer by bus for a tour of Fulford Mansion
Bus returns from Fulford Mansion to the ship
Depart Brockville bound for Millionaires' Row and turn-about at Rock Island light - bound for Ivy Lea
Debark at Ivy Lea for bus transfer to 1000 Islands Tower
Return to ship and overnight at Ivy Lea
Big Band sounds & vocals (new & old) - dancing and listening pleasure
Depart Ivy Lea bound for Gananoque, Ontario
Debark at Gananoque for tour of the Heritage Centre of the 1000 Islands
Depart Gananoque - meander through the Admiralty Group of the 1000 Islands
Arrive Kingston / Closing Ceremonies (Grand Saloon)
Disembarkation and farewells - Brock St. Dock, Kingston
Early morning coffee - Grand Saloon (or observation deck)
Breakfast (latest full breakfast serving - 0900)
Lunch - early sitting (at the call of the bell)
Lunch - main sitting (at the call of the bell)
Afternoon tea - Grand Saloon (or observation decks)
Dinner - early sitting (at the call of the bell)
Dinner - main sitting (at the call of the bell)
Shuffle Board, Parlor Games, Kite Flying
All times are approximate. This itinerary is subject to change without notice or incurring obligation. Currents, weather and seaway traffic may be modifying factors.